Wheelchair Swing Set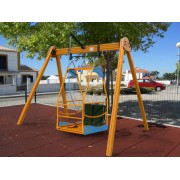 Wheelchair swing set - Accessible play equipment Commercial wheelchair swing set

Wheelchair Accessible Swing Set - Inclusive Play Equipment ideal for commercial use.


The Wheelchair Accessible Swing Frame offers a valuable play experience for children in wheelchairs.

Wheelchair swing has been designed for children who cannot easily move out of their wheelchair into a traditional swing seat at the playground.

The swing can be pushed or users with upper body strength/manual dexterity can use the provided suspended pulleys to move the swing.

The ramp allows a wheelchair user to access the unit very easily. The ramp then lifts up to give a secure enclosure round the user while swinging.

We feel every child has the right to enjoy a wonderful swinging sensation. Adults in wheelchairs can also use this piece of equipment for a great upper body work out and enjoy the swinging motion at the same time.