Swing Attachments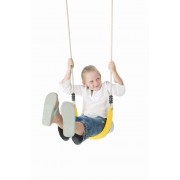 Vestibular Swings and Autism Swings -
Residential and Commercial Swings and Swing Attachments.
Allow your children to have fun in there own backyard with providing them a swing set and swings.

Did you know that swings are not just for fun! The benefits that swings can provide are more than what we think.
Swings help your child improve there athletic ability while they grow. Children playing on backyard swingsets or park swing frames is great because swings "promote movement and perceptual skills, spatial awareness, and sensory integration, including vestibular development which is (balance)."
This means your kids are developing skills while swinging on a swing set. Children playing on swings, have been found to improve balance and coordination by strengthening the Vestibular system.
So, swinging on a swingset helps develop both balance and coordination in children - Swinging on swings is not just for play and fun.
We have a huge range of swings to choose from, therapy swings, group swings, traditional park style swing seats that are commercial grade quality, adult swings and baby swing seats.
What swing will you choose?