Garden Bridges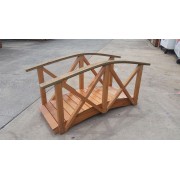 Garden Bridges - Safe Treated Pine - many sizes to choose from

How fun are these garden bridge's, place lots of imagination accessories onto the side rails, like steering wheels, periscopes, ships wheels and why not place a princess flag at the end of the bridge, how fun these garden bridge's are for children.

Every kid loves to make there way over a bridge, these bridges are a great play item for all achildren to play on.
Safe Treated Pine used, rot resistant (kid safe, ACQ treatment), strong and sturdy outdoor
timber garden bridges.
There are no products to list in this category.