Ball Pits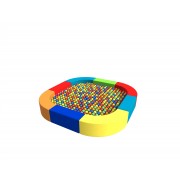 Ball Pits - Ball Pools - That are Commercial grade quality.
Benefit- Ball Pool provides a multi-sensory tactile stimulation, proprioception, and helps improve balance
Durability - Do you want your Ball pit that last's? If you answered yes, our Ball pits are what you are looking for.
Our Ball Pools are different from the rest! - Our ball pits are Quality built and Australian made, and not to mention built using the best materials available. Have a read why we think our ball pits are the best.

Here's how they are made
They are made with a timber shell/core and then laminated with our non-combustible or fire retardant grade of closed cell foam (Just like what we use in the safety flooring) and then upholstered with tough PVC fabric. Special sections of the walls have Velcro lid sections that when removed, reveal the insides of the timber shell so that special bolts are used to join all the sections together (rectangles and curves) on site to create a rigid ball pit that will not tip over, evan if you have a heap of children walk along the sides.
So our ball pits are not made from just foam and Velcro like some other ball pits on the market today, or that are imported from china, our ball pools have the hidden timber core to give the ball pit strength and longevity in heavy traffic environments.

Ball pits are not only a great sensory activity for children they are the funnest thing ever to wade/play around in.

No fixing to the floor is required.